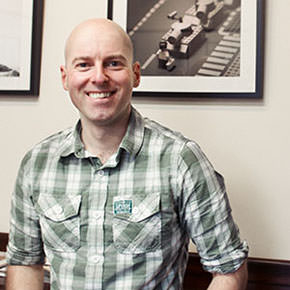 I seem to take a lot of photographs of toys. I also like messing about with light.
As you may have noticed I have a fondness for taking photos of LEGO. My work has been published in national newspapers in the UK, seen on BBC television, and featured in many magazines all over the world with subjects as diverse as German political culture and Brazilian business news. I'm a regular participant in LEGOLAND California's Star Wars days, and have had my work exhibited all over the world.
I was also part of the 100% Stuck in Plastic collective, a small group of photographers dedicated to bringing toy photographers together, sharing knowledge and trying to push toy photography further. I took part in some of their exhibitions and wrote the occasional blog post over on the website. Do stop by!
You will also find me on the usual social networks (links at the bottom of the page), including my full portfolio over on Flickr.
Frequently asked questions
Where were you born/do you live?
I was born, and still live in the West Midlands, England.
Do you really make a living taking photographs of LEGO?
Sadly not. I work as a video games programmer for a proper job. Toy photography is something I pursue in my spare time.
How did you get started with photography?
I started taking photography seriously in late 2006 when I upgraded my compact camera to something more substantial (a Fuji 9500). Six months after that I upgraded to a real DSLR after discovering that my main interest was in macro photography.
How much LEGO do you own?
A fair amount, but I'm sure it's not as much as people think! I have six tool boxes full of LEGO bricks (all sorted by colour or quick access). Because a lot of my work is based on minifigures, I keep those organised separately in another box. I have the pieces to make about 400 minifigures! (I've just counted them, that was more than I thought). I'm always on the lookout for new hairstyles or interesting props to add to my collection.
What camera/lenses do you use?
All of my 'Classics' series were taken with a Nikon D200 DSLR and Nikkor 105mm macro lens. These days I use a Nikon D800 DSLR with either a Tokina 35mm or Nikkor 105mm macro lens and Nikon SB-800 flashes.
What gave you the idea to recreate classic photographs with LEGO?
The first couple of classic photographs I took came about purely from mixing a couple of my hobbies, LEGO and the history of photography. I enjoyed not only the taking of the photographs, but researching classic images and the stories behind them, the things most people wouldn't generally know. Now I enjoy the fact that I'm bringing classic photographs and photographers to a new audience through my LEGO recreations, and hopefully that might get a few more people interested in finding out more about some of the world's great photographers.
Who are your favorite photographers?
Currently Ansel Adams, Steve McCurry and Henri Cartier-Bresson, but I get inspiration from so many photographers.
Did you study photography at college/university?
No, I studied chemistry at university a long time ago. I don't use it as much as you'd think. I have no qualifications in art or photography.
What's with all the Star Wars stuff?
I was born in the 1970s, so I grew up with Star Wars (and LEGO, of course). Like many children born around that time, I'm still a massive Star Wars geek, and I love taking photos of the LEGO Star Wars sets. It's like the two best things combined.